We could use the iterative approach from the Factorial Formula Interview Question to first compute a factorial:
We can use this code as a helper function, as part of our bigger solution.
Now that we can get a factorial, it's time to start counting the trailing zeroes. Here's a snippet to do that where we repeatedly divide by 10 and make sure there is no remainder left after the division:
Putting these snippets together, here's the code we get:
This solution would make a Software Engineer happy – but we aren't Software Engineers! We are men and women of data.
Can we think of a smarter, more mathematical way to do this?
Trailing Zeroes Formula
When does a zero occur at the end of a factorial?
When there's a 5.
For example, in 5!=5∗4∗3∗2∗1=120 there's 1 trailing zero.
Notice in 4!=4∗3∗2∗1=24 there's no trailing zero.
The zero in 5! came from multiplying 5 by 2.
Let's look at 10!=10∗9∗8∗7∗6∗5∗4∗3∗2∗1
Even without computing this total, we'd expected two trailing zeroes – one from the 5 multiplying by 2, and the other from the 10 multiplying any other number that's a factor of 2, like 4, 6, 8.
Starting to see a pattern? We don't care about 2s. We need to count the factors of 5.
We can floor division – the '//' operator, which chops off the remainder and returns a whole integer, to count the factors of 5.
Example: '13 // 5 = 2'.
So, our code looks something like this:
So simple, we're done, thanks for reading!
.
.
.
.
.
.
.
.
.
.
.
.
.
SIKE.
.
.
.
.
.
.
.
.
.
.
.
.
DID YOU RUN THE CODE?
.
.
.
.
.
.
.
.
.
.
We only passed half the test cases!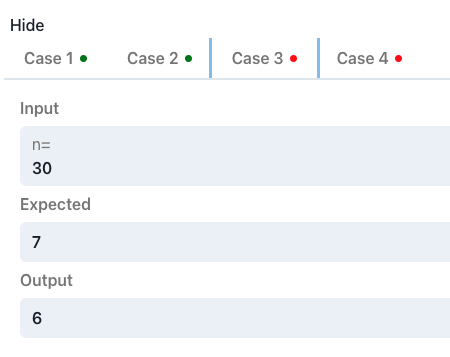 Let's take a loot at test case #3, 30!, where we'd expect 6 trailing zeros, right?
But surprisingly, there are 7 trailing zeroes in 30!=265252859812191058636308480000000.
So, why the off-by-one error?
Because we forgot that 25 contributes not 1, but TWO 5s (25=5∗5).
So not only do we need to count 5's, we need to count 25's since they give us an extra 5 to deal with.
So the code looks like this now:
But what about 125! – what do we do there?
Do you notice that 125=53.
To generalize this, we can divide by 5, 25, 125, and keep going up by powers of 5 while they are still less than our input number n.
Here's that final code: